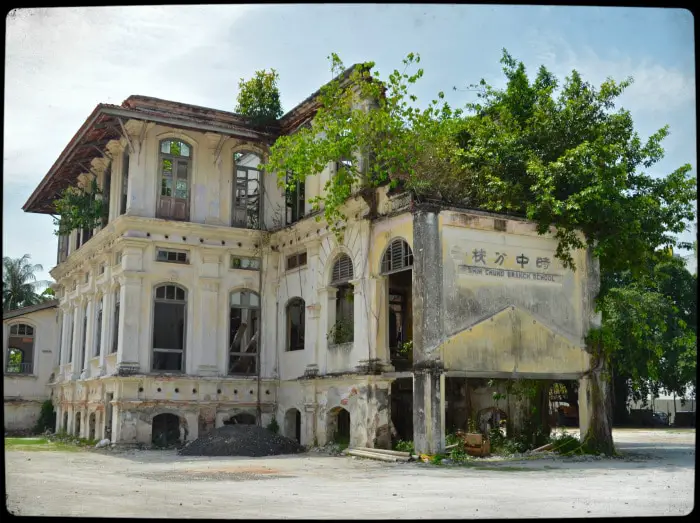 Penang may be a beautiful island featuring attractions, fun activities, world-renowned delicacies and breathtaking landscapes, but there's something else this popular destination is known for. And that is most creepy places in Penang.
With plenty of things to do and a history that winds all the way back to times of war, it's a place that's also home to its fair share of gruesome events. Combine that with a number of old landmarks (that may not have any dark tragedies directly attached to them but which have nevertheless garnered notoriety for paranormal disturbances) and you've got a recipe for some thrills and chills.
So, if you have an underlying fascination with the creepier side of things and happen to be in Penang, here are a few spots that may just be right up your alley.
Interested in visiting an attraction that's considered so creepy places in Penang, it was even featured on National Geographic's list of Top 10 Most Haunted Sites in Asia? 
The Penang War Museum was initially established as a fort built by the British in the '30s. It's a really old landmark, and just visiting the premises alone during the daytime might be enough to bring shivers down your spine. The battle for Penang against Japanese forces took place at this very spot some 11 years after it was developed in 1941.
The Japanese eventually took over the fort and turned it into a prison base, used mainly as a strategic stronghold and to torture many poor prisoners. So many people were beheaded here that the hill was later known as 'Bukit Hantu' (Ghost Hill) by locals around the area. It's a 20-acre museum now, and many believe that the spirits of the tortured victims still linger on.
Yet another old landmark with a history soaked in blood, the Shih Chung Branch School located near Lebuh Farquhar was once a military administrative building during the Japanese Occupation of Malaysia. Like the War Museum, people were once tortured to death here, adding to the horror of the place. Now, the creepy places in Penang school is lost in time, buried in deep forest.
It's so visually terrifying, a Taiwanese horror movie used it as one of its film settings. Drivers that pass the school have reported getting the shivers, while some visitors even experienced sudden attacks of hysteria. If all that wasn't enough, it's said that you might even witness the apparitions of Japanese soldiers here!
With a name like 99 Door-Mansion, you can imagine that this old residence has the makings of a Hollywood horror blockbuster. Hidden in a corner of a palm-oil plantation in Nibong Tebal, this was once a beautiful and elaborately built house that was abandoned some 50 years ago. 
The owners were said to be a wealthy family that lived lavishly and peacefully until 1948 when a member of the family was shot. The killer has never been found to this day.
Since then, strange things have happened at the mansion. For one, reports state that a local witch doctor actually tried contacting spirits or demons in the house. Many people have reported hearing demonic growls and unexplained noises from the surrounding areas. 
Some investigators have felt an evil presence. There have even been some reports of possessions. Locals refuse to stay in the area past sundown, due to rumours of black magic and evil spirits.
Pulau Jerejak, Creepy place in Penang
This tiny island was once an active conventional prison that housed some of the most notorious criminals in the country. It has had its fair share of stories featuring inhumane treatment and even death. To top it off, the island was surrounded by shark-infested waters in order to keep the public out and the prisoners in.
These days, fishermen and visitors appear to have seen the creepy apparitions of tormented prisoners or patrolling guards. It's an unsettling place, and that feeling of being stuck on a deserted island probably adds to that eerie vibe.
This school was established in 1816, making it the oldest English-medium school in Southeast Asia. It was, in fact, the first-ever mainstream school to be established in Malaysia. 
That's pretty incredible. Unfortunately, this seems to also lead to a lot of rumours that this place is haunted. At first sight, you might think the same.
It's apparently terrifying yet rather majestic at the same time. Many stories have been told about the creepy places in Penang Free School, but one of the most popular is that of a screaming woman that can be heard from the halls of the building. It's believed that this woman might have been tortured by Japanese soldiers back in the day.
There's another museum that may not be as notorious as the War Museum but is notorious for its alleged paranormal activity all the same.
The Penang State Museum started out as a maternity hospital in 1915. Over 60,000 babies are thought to have been born there. The Japanese Occupation eventually led to it being turned into a naval hospital, and when the British returned, it was transformed once more into a barrack for soldiers.
In 1955, the old building was turned into a hospital once more and was eventually converted into a state museum. With a long-winding history like that, you can probably understand why so many people believe it to be haunted.
There have been reports of poltergeist activity (doors closing on their own and chairs shifting) as well as sounds of heavy breathing at the resident mortuary.
Who knew that Penang was so full of terrifying attractions? If you have been to any of these places before, let us know about your experiences. 
Need a place to hide after all that talk of ghosts and apparitions?
Placefu has a selection of cosy (and non-scary) homestays. Discover now!